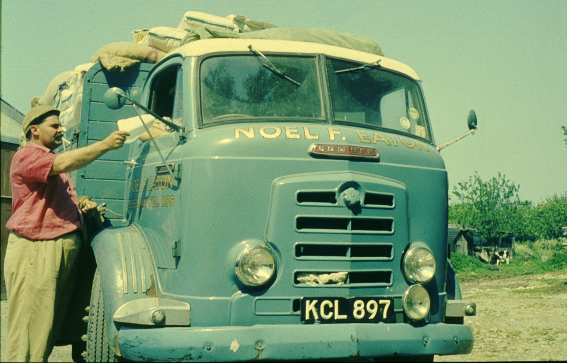 Noel Eaton came to the village of Debenham in 1959 and set up a corn merchants business from premises in Low Road serving the many farms and small holdings in the area. Photographs of vehicles from those early days can be found in the gallery section. Over the years the business has seen quite a few changes including at one time running an orange juice franchise and having a depot in Nottingham.
The move into full time transport came in the late 1970's, and the company of Noel Eaton & Sons (Transport) Ltd was formed in 1980. The business is now run by Noel Eaton's two youngest sons David and Patrick Eaton.
We moved to our present depot in the village of Rishangles, some 2 miles north of Debenham, in the mid 1980's, maintaining our close association with the local area. We have always aimed to provide a personal service to all our customers and this is borne out by the fact that most of our customer base have been with us for many years.
Although we are a small company, we have always looked to innovate and improve our services: We were one of the first companies to provide curtain-sided rigid vehicles for our groupage services; we were also quick off the mark in having sleeper cabs, night heaters, mobile phones, tail-lifts etc.
Sadly, Noel Eaton died in 1991 and his wife Dorothy, who worked tirelessly for the company, died in 2004, but David and Patrick Eaton are proud to keep the company running in their father's name and hope that vehicles bearing the colour of "Eaton's Blue" will continue to travel the country's highways for many years to come.